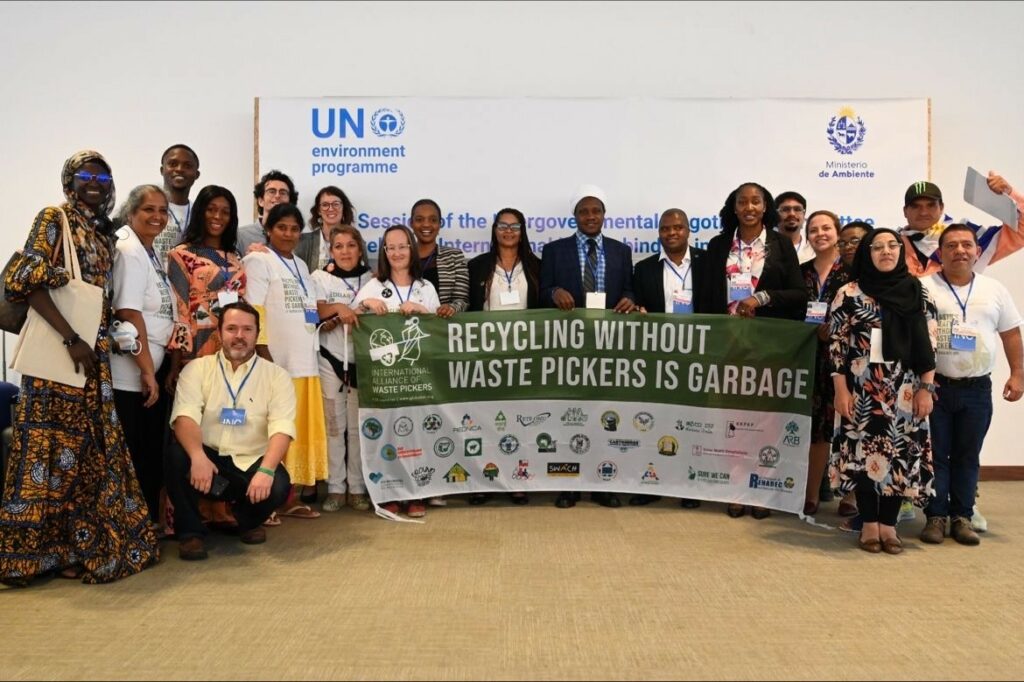 Yunus Environment Hub attended the first meeting of the International Negotiating Committee on developing a legally binding plastic treaty, that took place in Punta del Este, Uruguay, from 28 November to 2 December 2022 as an observer.  
During the meeting the objectives, scope and details were discussed and a multistakeholder forum was held with governments, industry and civil society organisations. The following elements were mentioned that should be included in the global instrument: addressing the full life cycle of plastics, common definitions, adequate financial support especially for countries in most need, effects on human health, importance of national action plans, effective reporting and transparency, science and technology-based inputs and finding modalities for a strong stakeholder engagement including the informal sector. Yunus Environment Hub wants to echo what has been heard many times, that 'Nobody should be left behind'.  
Read more about Yunus Environment Hub's position 
Recycling without waste pickers is garbage – Just Transition Initiative builds on the Group of Friends of Waste-pickers launched a day before the INC-1 began 
"Kenya would like to take this opportune moment to inform the plenary of the 'Just Transition Initiative' which is a joint initiative with the delegation of South Africa and the International Alliance of Waste Pickers and other relevant stakeholders, that seeks to foster the element of a just transition within the letter and spirit of the proposed legally binding instrument." Dr. Ayub Macharia, representative of the Kenyan delegation, stated. Waste pickers from India, Kenya, South Africa, Senegal, the United States, Chile, Colombia and Uruguay asked for a Just transition that ensures the spirit of 'leaving no one behind'. The statement was supported by the governments of Pakistan, Burkina Faso, Niger, Colombia, Chile, Ecuador, South Africa and Kenya arguing that the topic needs to be a central element in the Plastics Treaty. Many environmental organisations including Yunus Environment Hub stand in solidarity with the waste pickers and support the Just Transition Initiative. The Just Transition Initiative builds on the Group of Friends of Waste Pickers inaugurated and hosted by the Government of Uruguay. 
Yunus Environment Hub stresses the importance to recognize that the plastic waste crisis is not only an environmental and economic crisis, but that it has an enormous social dimension. It is for the first time, that waste pickers have the chance to make a moral claim and force governments to recognise waste pickers' contribution. It is time to make history.