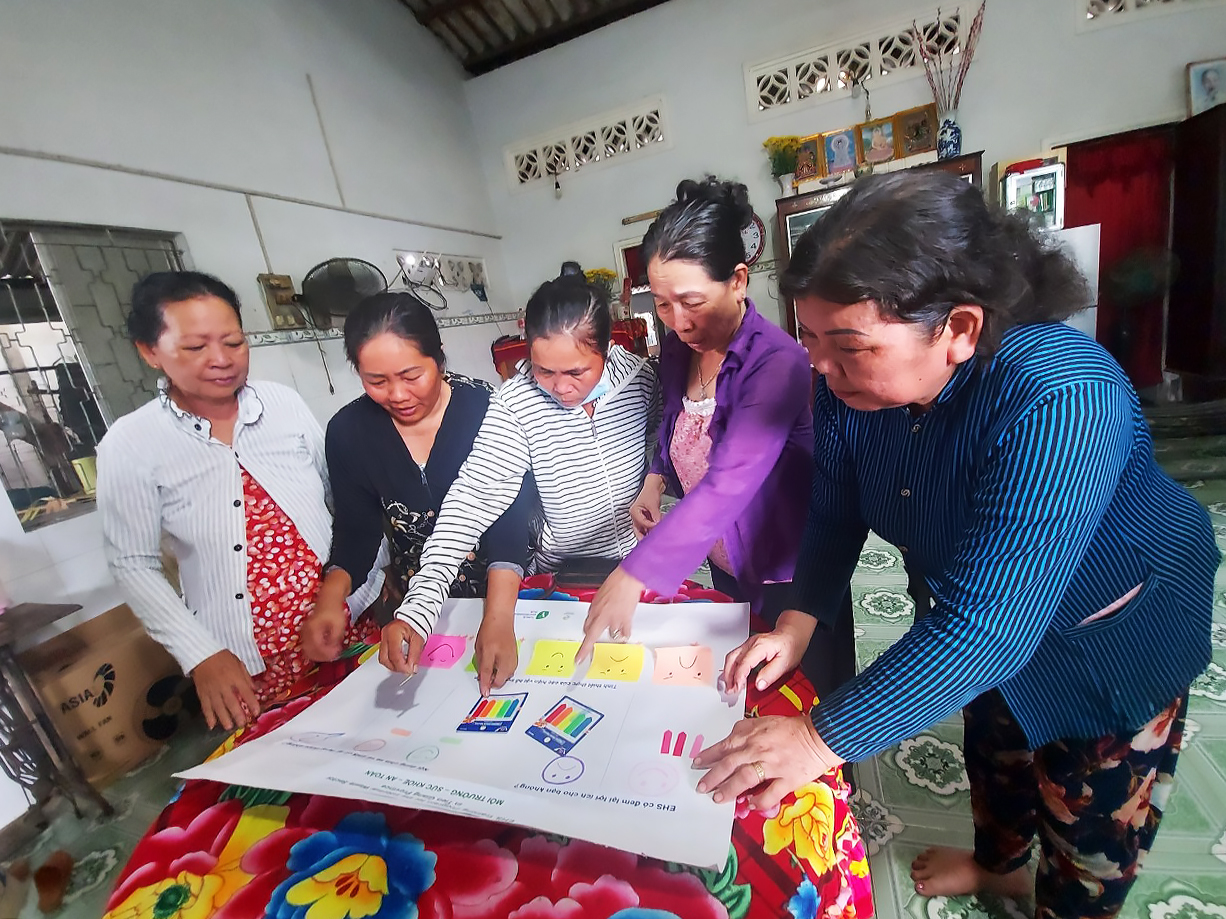 At Yunus Environment Hub, we hold gender and social inclusion as core values. Our commitment to Nobel Peace Prize Laureate, Professor Muhammad Yunus' social business concept and principles  drives us to uplift marginalised, vulnerable, and underprivileged groups, specifically focusing on women. We strive to amplify women's voices and enhance their livelihoods, providing them with the necessary support and resources while recognising the impact of their work on the environment.
Let us share the inspiring story of Ms Nguyen Ngoc Tiep, a scrap shop owner from the Mekong Delta province in Vietnam. Through Yunus Environment Hub's programs on professionalising informal waste workers, her life and numerous other female informal waste workers have been illuminated and transformed.
Ms Nguyen recounts her journey, "As a young girl, I always wanted to learn. However, growing up in a large family plagued by poverty, I was forced to abandon my education after fourth grade to support my family. Education was often denied to girls my age, and our voices were rarely heard. With limited formal education, I could not pursue other job opportunities. So, I became a waste collector, which allowed me to manage my time while earning a living and caring for my family. For over ten years, I collected recyclable materials from households on my bicycle, braving the challenges of scorching hot days."
As her family's sole provider, Ms Tiep has worked tirelessly to meet their daily expenses and support her eldest son's family.  Despite her efforts, the financial burden remained heavy due to poor health and limited access to capacity enhancement opportunities, affecting many family members. Operating her waste business under a small tin-roofed yard attached to her old house presented its own difficulties. The scorching sun made the workplace unbearably hot during summers, and leaks from rainwater flooded the shop during the rainy season. Additionally, the limited space posed challenges for operation and material storage. Her workers often sustained minor injuries while handling sharp metal waste. However, despite all these challenges, there was hope. The Environment-Health-Safety (EHS) Training Program provided by Yunus Environment Hub proved to be a turning point. Equipped with practical Personal Protective Equipment (PPE), technical tools, and knowledge, they were able to improve their working conditions while contributing to a cleaner and healthier environment.
Participating in the ValuCred  testing brought positive change to Ms Tiep's life as she discovered the world of digital skills enabling her to be connected to EPR schemes, rekindling her belief in her learning potential and professionalising her business. She had never imagined a day when she could confidently use a smartphone and a mobile app. After more than two decades of running her scrap business, it was the first-time women like her were acknowledged for the importance of their work and its positive impact on the environment. They gained a sense of hope and realised that their voices truly matter. The opportunity to engage with Yunus Environment Hub and the training and financial support received evoked deep gratitude. Struggling daily to overcome the challenges posed by the Covid-19 pandemic, they found solace and meaning in the timely support they received.
Ms Tiep's story exemplifies the transformative power of Yunus Environment Hub's socially inclusive waste management programs in Vietnam. Through our commitment to gender and social inclusion, we always strive to uplift women workers like Ms Tiep, providing them with the tools, resources, and recognition they deserve. We are determined to build a better future for all, fostering a cleaner, healthier, and more inclusive environment.