Our StartNow online platform is used as support for the training of social business entrepreneurs. The aspiring entrepreneurs interact on a self-learning platform and build their business plan within 8 weeks. The objective is to blend online-offline experiences for the entrepreneurs to advance on the creation and testing of their business plans, as well as providing them with tools to track their progress after finalizing the self-learning experience. The process is accompanied by weekly mentoring sessions to provide peronalized and constant feedback. When the mentees finalize the online course, they join our StartNow community where they can find new opportunities and peer support.

The StartNow online course for social business plan creation will allow the entrepreneurs to build:
• The theory of change for their social business solution
• Identify their stakeholders and build their value proposition
• Build their product and market strategy
• Build their revenue model, review its financial viability and projections
• Measure their social and environmental impact potential including their potential to create local jobs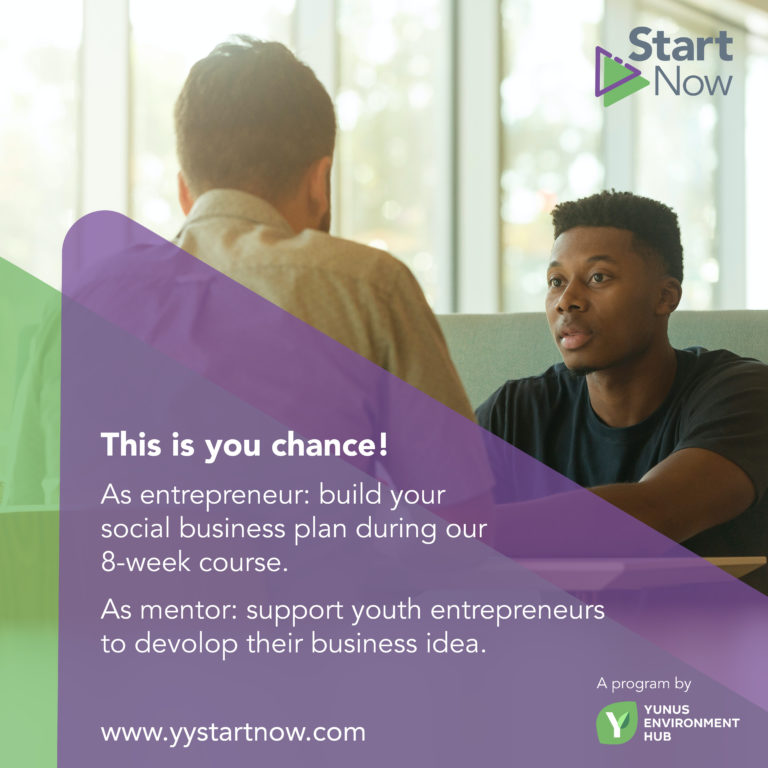 Do you want to join as a volunteer mentor?
If you have experience in creating social business plans and would like to support aspiring social business entrepreneurs to growth and bring more social and environmental change, you can join our pool of mentors. The mentors will be assigned according to their experience and will require 2-hours per week to support their mentees.

Do you want to join us as a partner?
We are happy to discuss partnerships to run a new StartNow cohort with your organisation. If you support early-stage entrepreneurs or work in capacity building for youth entrepreneurs and are interested on using our platform as part of one of your programs, contact us to discuss potential partnerships.

Sign up as a social business entrepreneur or as part of our mentors' pool, applications are open on a rolling basis. Learn about our new cohorts and deadlines!