The GrowUp Incubator for green Social Businesses is one of the programs under the umbrella of a "Brighter and Greener Future for Africa's Youth". An initiative by YEH to support social businesses that create jobs while protecting the environment in sectors such as waste management, circular economy, clean energies and agriculture.
Register for our digital Demo Day (7th of October 2021) for the final pitches of our social business entrepreneurs!
GrowUp is set up to support and grow skills of early-stage entrepreneurs that have proven their business concept and are looking for support on how to scale their social businesses and become self-sustainable. The program supports social business entrepreneurs from East Africa (Kenya, Ethiopia, Rwanda, Tanzania, Uganda, and Burundi) and will be running three cohorts between 2021 and 2023. During the course of the program, the entrepreneurs get a chance to:
Improve their partnerships and operational model
Work on their financial sustainability model
Identify possible funding opportunities
Review their product-market fit for multiple contexts
Find viable routes to scale and grow
Learn how to integrate impact evaluation into the operational mode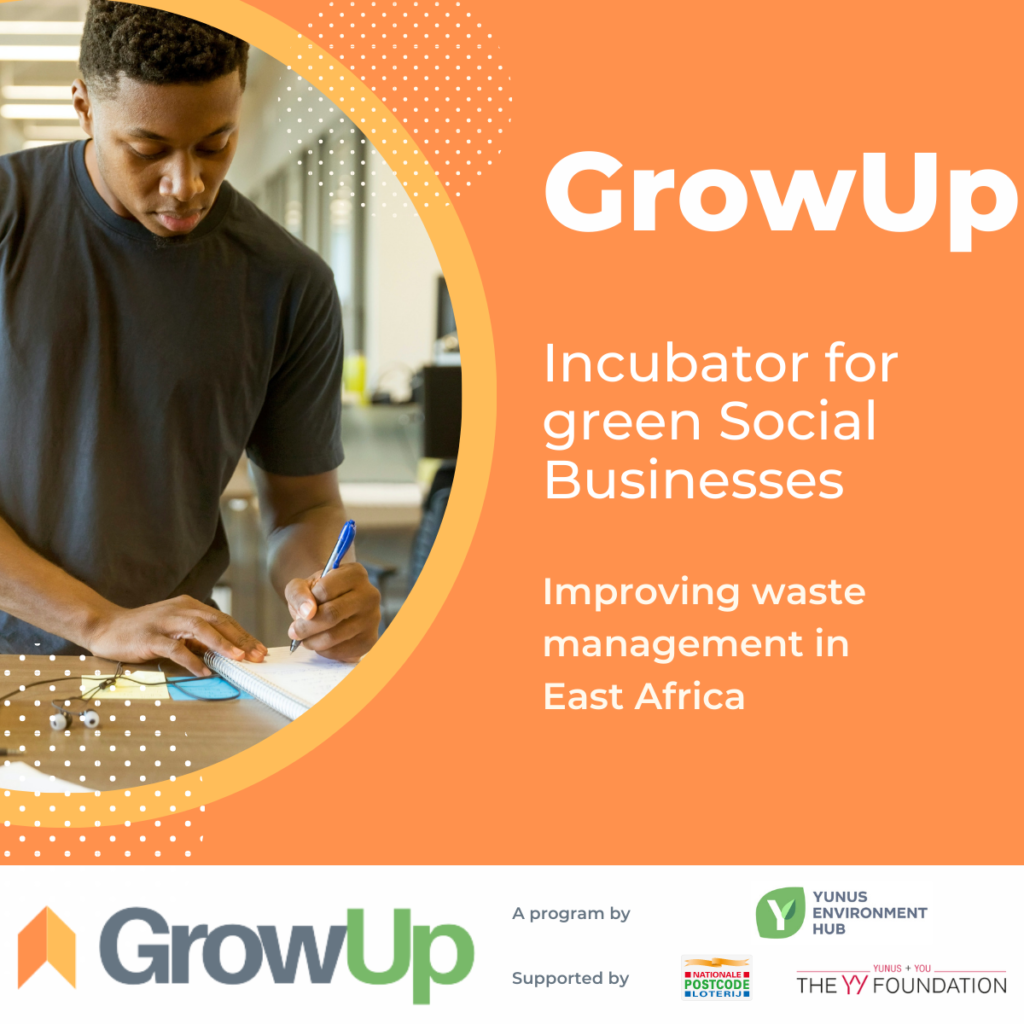 With increasing urbanization, waste management has become a global issue. The overproduction of waste is causing negative impacts on our environment. Waste reduction, repurpose and recycling along the value chain need to be taken to the next level.
The first cohort of the program is focused on supporting and advancing innovative solutions for sustainable waste management that have the potential to create a great social and environmental impact in these countries. Due to the global pandemic, all the activities of this cohort have been planned to take place online. Participants were selected through an open call for applications that ran from February – March 2021 and pre-selected 25 social business entrepreneurs were invited to a weekend Social Business Bootcamp from 16th – 18th of April 2021 during which the selection board got to know the applicants and their business models in depth.
Kick-off
During the 3-day GrowUp Incubator Bootcamp with 25 pre-selected social businesses improving waste management in East Africa participants got insights about the concept and development of social businesses and activities of YEH. Later that day, some get-together activities were launched, during which entrepreneurs got a chance to meet each other.
Learning
Day two offered the participants an intense learning session in the morning that gave the entrepreneurs a chance to learn more about the development of the value proposition for their social businesses and a training on how to prepare an elevator pitch. Following each of the lectures, participants had the chance to work in smaller groups with experienced Bootcamp facilitators from Circle Innovation, Technology and Innovation Institute, Stepchange Africa, Amani Institute, Bridges for Enterprise and Einstein Rising. The facilitators, all experts in the field of social business and building innovation gave their professional feedback on the value proposition canvas and elevator pitch of each entrepreneur. After these work sessions, entrepreneurs got a better understanding of both topics and were able to polish their final Bootcamp pitch by incorporating this feedback.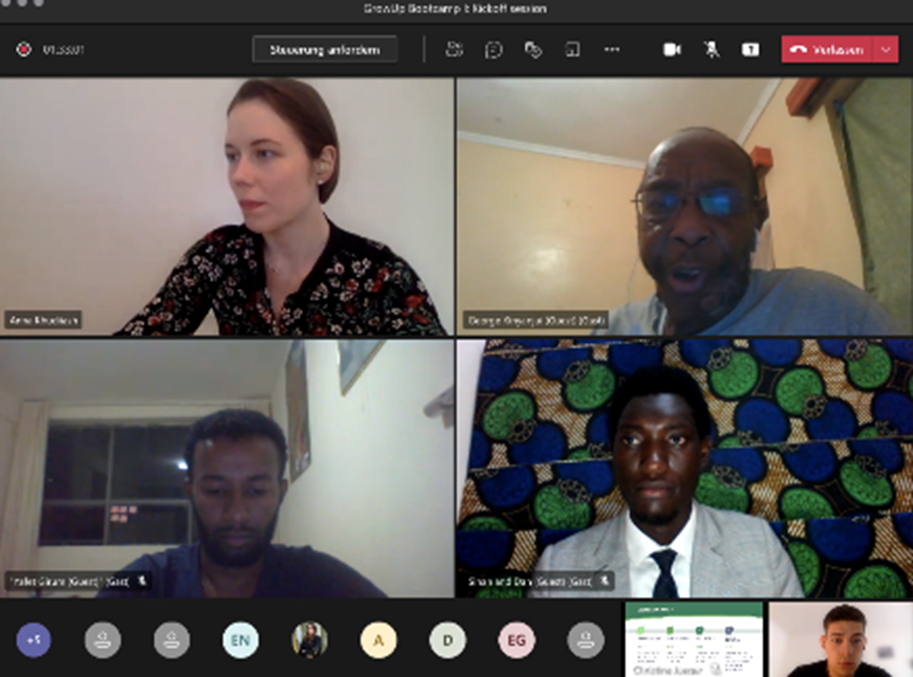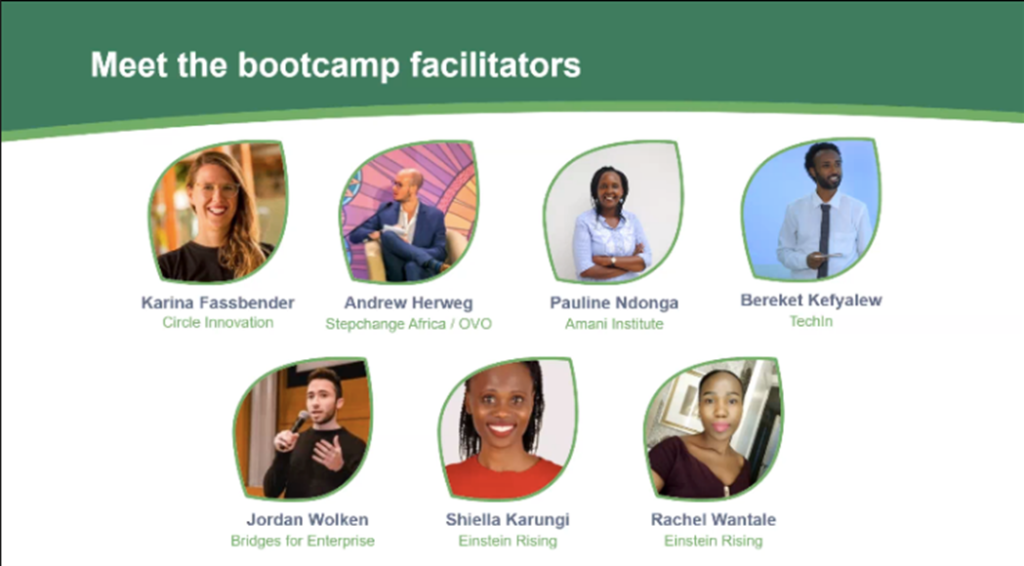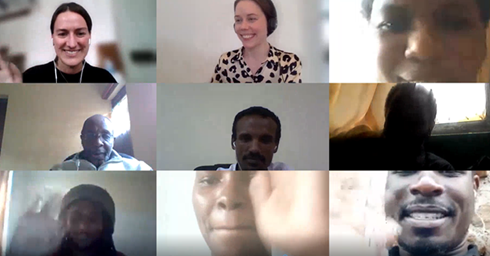 Inspiration
In the afternoon, an inspiring session with Felix Wunner took place. Felix is Co-founder of Five Oceans, which produces high-quality surf fin made from recycled plastic waste. The session was a great inspiration, as participants learned about the ups and downs of Felix' entrepreneurship journey. He shared honest experiences and lessons learned on his journey and encouraged entrepreneurs to move forward and never give up on their ideas.
Pitching
The event culminated in the final pitch session on Sunday. Participants had ten minutes dedicated to pitch to the jury from YEH and to answer follow-up questions. As a result, ten finalists were selected to proceed with the 5-month incubator program consisting of bi-weekly tailored mentorship based on participants' needs, interactive capacity-building workshops, networking events with local and international YEH partners and peer-to-peer support. After the selection, a gap analysis was conducted for each social business entrepreneur to match with a suitable mentor.
During an exciting weekend of workshops, info sessions and networking, all participants took away great learnings and motivation for their future endeavors. Yunus Environment Hub is excited to announce the ten selected social businesses who will participate in our GrowUp Incubator. Each one of them is creating impact in a unique way and actively promoting a world of three zeros by offering solutions to waste management and a circular economy.
10 selected finalists
Eco Brixs produces high-quality, affordable building materials (bricks, fenceposts, pavers) as well as face shields and water filters from recycled plastic in Masaka, Uganda
Coast Redwood closes the gap in the Kenyan recycling market in Nairobi by providing recyclers with high quality plastics sorted by color and type
Reco is providing franchised waste pickers with branded PPE, capacity building on waste recycling and waste transfer stations where recyclables are being sold to waste recyclers and manufacturers in Mombasa, Kenya
Biha Eco Venture eliminates housing poverty in Kampala, Uganda by producing low-cost roof and floor tiles from a mixture of waste plastic and waste eggshell powder
Arena Recycling Industry produces pavement blocks and eco-bricks from post-consumer plastic and sand in Dar es Salaam, Tanzania
AHEZA IWACU provides an optimized app-based residential waste collection service for organic and plastic waste as well as producing high quality organic fertilizer in Bujumbura, Burundi
SEAS provides organic waste collection services for communities in Kampala, Uganda and produces organic fertilizer
Yo-Waste benefits communities in Kampala, Uganda by connecting waste collectors and waste generators in a smartphone-based app, where scheduled and on-demand waste collection is organized
Re-Afric produces customized footwear from recycled leather, synthetic, jeans, tires, fabric, stiffener and inner sole collected in Nairobi's Kibera slum in Kenya
MASSP Recycling Enterprise

aims to provide sanitation services in Arba Minch, Ethiopia by installing mobile toilets within the city and to produce struvite fertilizer from human waste
The road ahead
During the mentorship period, the entrepreneurs are expected to receive group training sessions, networking opportunities, and one-on-one sessions with their mentors. At the end of the incubation program, a Demo Day will be organized in October 2021, where the social business entrepreneurs will show their progress and pitch their solutions to a public audience of diverse stakeholders.  
We are wishing the Social Business entrepreneurs the very best of luck as they embark on this amazing mentorship journey together with Yunus Environment Hub.