Yunus Environment Hub has teamed up with Impact Hub Berlin in the Feeding the City Germany 2021 program. The six-month incubator program supports teams in Germany to develop innovative sustainable food solutions in their community by starting a business that benefits urban communities and our environment.
Yunus Environment Hub is a partner of the initiative created by Impact Hub Berlin and powered by Bank of America which offers a 6-month incubation program to selected entrepreneurs in the sustainable food sector. The program is designed to enable teams looking to further grow their idea to create impact and tackle problems in the food sector in Germany.
Joining forces, Yunus Environment Hub  and Impact Hub Berlin communicated the program which opened its call for applications throughout April 2021. The extended reach and combined awareness creation efforts attracted a large pool of aspiring social business entrepreneurs ready to embark on the 6-month experience of scaling their idea into an operating business. We contributed our expertise in social business and environmental impact creation as a member of the Jury selecting the finalists among a talented group of highly motivated entrepreneurs. 
The final decision was based on thorough evaluation along the dimensions of a convincing problem/solution fit, the social impact and business potential, the market viability of the idea as well as the team behind it. For the coming weeks, one team will be mentored by one of our experts to overcome their biggest challenges and improve the business model.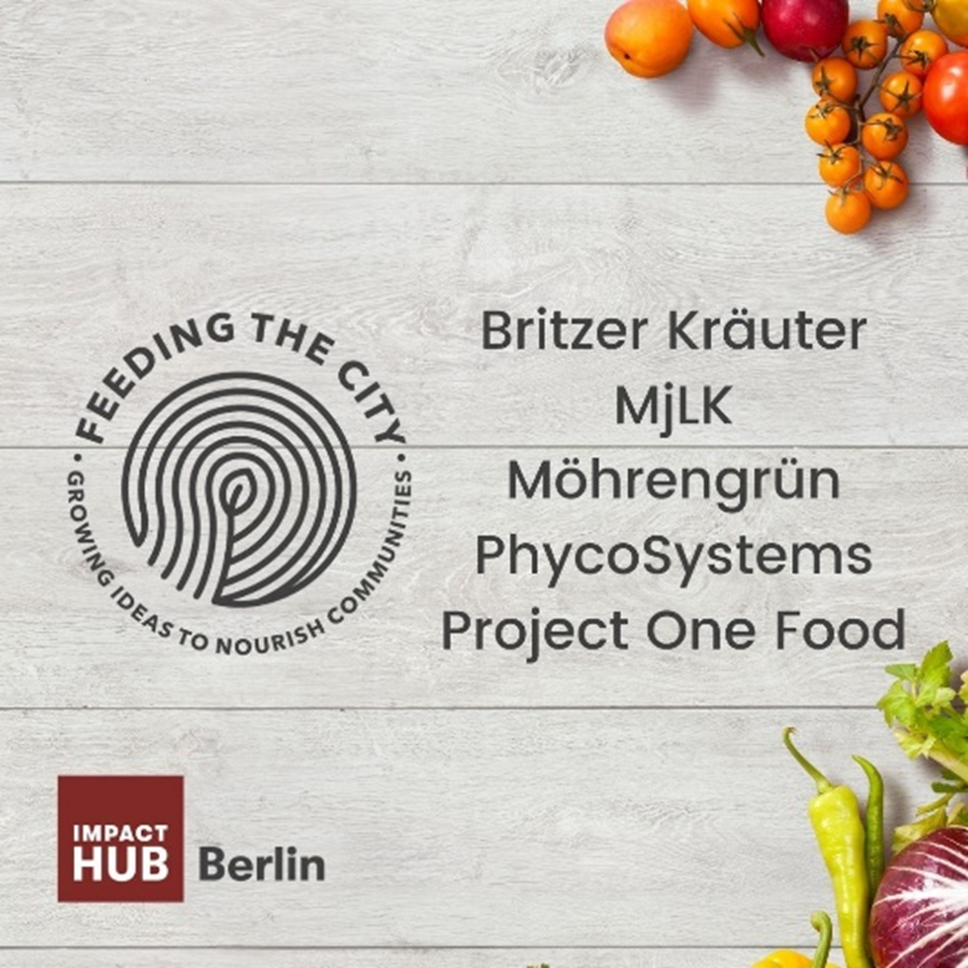 We want to personally congratulate the 5 selected initiatives which will continue in the Feeding the City Program 2021. Their ideas offer great potential to create a more sustainable food sector in Germany and actively tackle the environmental crisis.
Britzer Kräuter, constructing vertical herb walls
MjLK, offering a zero waste, plastic-free milk alternative
möhrengrün, offering a plant-based alternative to minced meat
PhycoSystems, working with microalgae that reduces agriculture's CO2
Project One Food, creating a network of hubs for plant-based fast food
Yunus Environment Hub is happy to be part of the incubation process by contributing our expertise and enabling young, dedicated entrepreneurs to scale their impact. Throughout the upcoming six months, Yunus Environment Hub will take on the role as a mentor to the selected initiatives and provide them with the necessary support to grow their business.
The program culminates in a final demo day in September to showcase the social businesses. Together with Impact Hub Berlin and other expert partners in the fields of sustainable food and business creation, the Feeding the City program will offer a variety of valuable content to the finalists to prepare them for the demo day and beyond:
Mentoring: Industry-specific mentoring from food and business experts
Masterclasses: Training and mentoring from our consultants and partners on financial planning, impact modeling, and more
Visibility: Opportunities for media attention
Office Hours: Focused time to work on your business model
Network Access: Access to the Impact Hub global network of 100+ Hubs and over 16,000 members
Partnerships: Connection to potential pilot partners