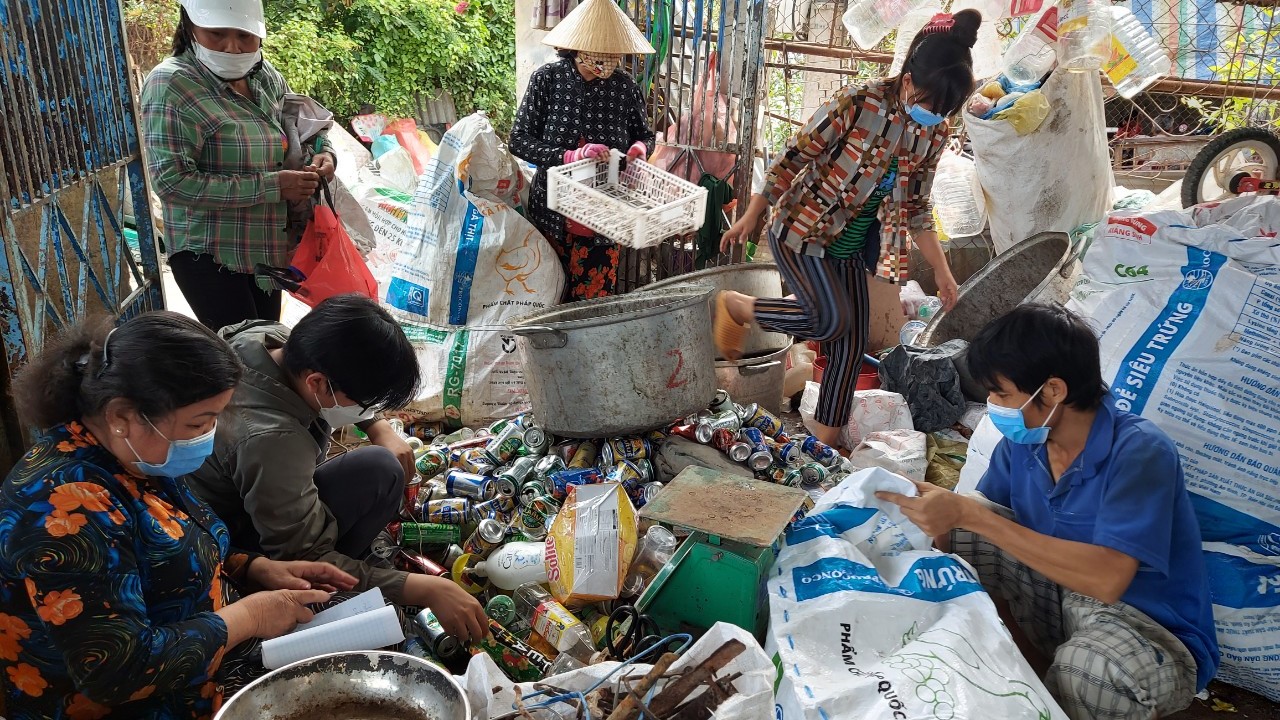 The EHS Training Program for the Informal Waste Sector, promoted by PREVENT Waste Alliance, with funding from the Federal Ministry for Economic Cooperation and Development (BMZ) is implemented on the same plastic waste value chain of the ValuCred Pilot Testing  from January to September 2022. The aim of this program is to strengthen the local informal waste sector through investments in infrastructure and capacity development. The EHS training program includes four training sessions focusing on Health & Safety and Environmental Impact from waste operations at the workplace with tailored content co-designed by an EHS professional and Yunus Environment Hub Vietnam. These training sessions and the implementation of the newly gained knowledge contribute to mid- and long-term behavioural change of operations and processes, and an overall improvement of working conditions and reduction of negative environmental impacts from the informal sector.
Yunus Environment Hub organized 4 awareness-raising and consultation sessions on improving health and safety aspects and minimizing negative impacts on the environment related to day-to-day waste operations for scrap shop owners and individual waste collectors in Tien Giang province, Vietnam. With regard to EHS awareness and capacity building, the scrap shops received practical EHS tools and equipment namely lifting aids for heavy weight items, new sets of fire extinguishers and fire prevention signboards, bag sewing machine, water purifier, first-aid cabinets with essential daily healthcare kits and educational posters with waste segregation and environmental protection themes. In addition, PPE (personal protective equipment) packs such as protective gloves, raincoats, anti-dust facemasks, refill thermos bottles and daily first-aid kits were distributed to 100 individual waste collectors in the existing parts of stakeholder networks of Yunus Environment Hub. Several interviews had been conducted with the scrap shop owners and representative groups of individual waste collectors and waste workers in order to identify the tools and equipment that are best fit for their needs to implement the measures identified in the training sessions.
After the complete EHS training sessions and distributions of EHS tools and equipment, a feedback session was conducted with the participants to reflect on learnings and challenges in preparation for impact analysis. Positive impact observations include enhanced awareness of environmental, health and work safety issues through the daily waste operations of the informal sector and their improved work conditions, and increased understanding of their aspirations, needs, barriers and integration gaps in the domestic context of EPR implementation as well as to facilitate the transition to a plastic circular economy in a socially and environmentally manner. Other findings consist of social prejudice, lack of proper recognition toward the informal waste sector, their limited access to decision-making process and policies, lack of access to funding and capacity-building opportunities.
Contact our Yunus Environment Hub Vietnam team if you are interested in similar program developments.